The proposed reclassification seismic territory of the region Friuli Venezia Giulia is aimed at identifying, training and updating of seismic zones of the region as required by the Ordinance 3274/03.
The seismic reclassification proposal has been developed jointly by the University of Udine, Trieste and OGS already achievers of the "Charter of regional seismic risk."
The "Charter of regional seismic risk" is a strategic tool in planning interventions on old buildings. Among the basic products of that study also included the regional seismic hazard map, which quantifies the expected shaking in earthquakes in various situations resulting from different geological settings of the subsoil.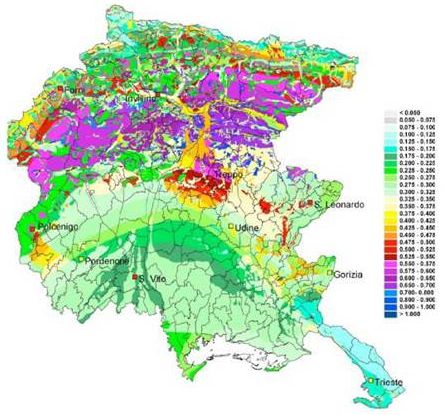 Regarding the seismic classification, however, the rules and configuration guidelines must be applied to the area for the new center. In this case it is of utmost interest highlight situations that from the point of view of the seismic response may be critical to locations of use or interventions edificatori future, irrespective of the current usage of the territory. At the national level, through Ordinance 3274/03 have been defined criteria for review of the seismic classification and in particular the arrangements for providing the seismic hazard maps. The studies carried out jointly by the University of Udine, Trieste and OGS are therefore merged into the new mapping of regional seismic hazard calibrated geophysical and geological information specific to the area of Friuli Venezia Giulia, collected and processed appropriately for this purpose.
Start - end project : 2003 - 2006.